Sidewalks of New York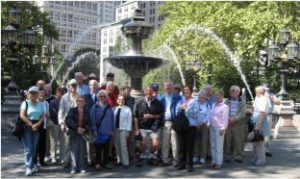 Pete Stair, a licensed NY City Sightseeing Guide, schedules, arranges and leads walking tours of New York City for NCMC members and their guests. The group meets on specific dates, selected by Pete, during spring through fall. Walks are typically half a day, sometimes longer and are not difficult. Spouses, significant others and guests are encouraged to participate.
Chairman: Pete Stair (203-962-2034)
Wednesday, Oct. 18th. – Roosevelt Is. & Cornell Tech – take the Tram to Roosevelt Island, tour the newly opened campus of Cornell Tech and visit the Four Freedoms Park. Cost: pay as you go: ~ $25 transport plus lunch. Meet at 8:30 AM at the NC train station. Sign up at the Couth Table. Friends and spouses welcome. Limit 14.