Book Club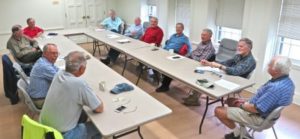 The Club meets monthly to discuss books of all genres. Writers have included Conan Doyle, Ashlee Vance, Agatha Christie, David Hoffman, Mickey Spillane, Dashiel Hammett, Patricia Cornwell  and John Grisham. Please join us in the always-stimulating conversation.
Chairman: Dan Eng (203-972-0649), Co-Chair: Jack Lapolla (203-966-1107)
---
The Book Club will not be meeting in December.
---
The Book Club selection for January: "Killers of the Flower Moon: The Osage Murders and the Birth of the FBI" by David Grann. In the 1920's, the Osage Indians of Oklahoma became both the richest people on earth and the most exploited by the white establishment. From the NYT: "….what was done to the Osage must rank among the most depraved and ignoble." From Kirkus: "Dogged original research and superb narrative skills came together in this this gripping account of pitiless evil." Meeting on Tuesday, January 23 at Lapham, 1:30p.
The Book Club selection for February is The Brooklyn Follies by Paul Auster. Retired life insurance salesman Nathan Glass has come to Brooklyn seeking only solitude and anonymity but life takes over instead. Among the many twists in the delicious plot is a scam involving a forgery of the first page of The Scarlet Letter. From the Washington Post: "a bighearted, life-affirming, tenderly comic yearn." We'll meet Tuesday, February 26th at Lapham at 1:30pm.
Dan Eng (203-972-0649), Jack Lapolla (203-966-1107)
---