Book Club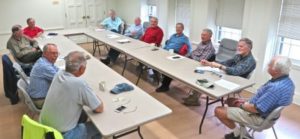 The Club meets monthly to discuss books of all genres. Writers have included Conan Doyle, Ashlee Vance, Agatha Christie, David Hoffman, Mickey Spillane, Dashiel Hammett, Patricia Cornwell  and John Grisham. Please join us in the always-stimulating conversation.
Chairman: Dan Eng (203-972-0649), Co-Chair: Jack Lapolla (203-966-1107)
The Book Club selection for September is The Gatekeepers by Chris Whipple. Through extensive interviews with all seventeen living residential chiefs of staff and two former presidents, Chris pulls back the curtain on this unique fraternity. Filled with shrewd analysis and never before-reported details. The book offers an essential portrait of the toughest job in Washington. We will meet Tuesday, Sept. 26th at Lapham at 1:30pm.
The Club's October book selection is The Rent Collector by Camron Wright. Based on the experiences of a real family, the fictional Ki Lim, Sang Ly and their ill child, Nisay, live in Stung Meanchey, the largest municipal waste dump in all of Cambodia. Their lives are forever
changed, however, through the intricate interaction between the family and The Rent Collector. We will be meet on Tuesday, October 24th at Lapham at 1:30.