Book Club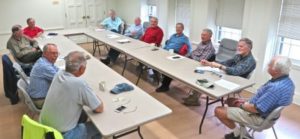 The Club meets monthly to discuss books of all genres. Writers have included Conan Doyle, Ashlee Vance, Agatha Christie, David Hoffman, Mickey Spillane, Dashiel Hammett, Patricia Cornwell  and John Grisham. Please join us in the always-stimulating conversation.
Chairman: Dan Eng (203-972-0649), Co-Chair: Jack Lapolla (203-966-1107)
---
The Club's book selection for November is The Plot Against America by Philip Roth. The New York Times in 2004 wrote: "Philip Roth has written a terrific political novel". In the 1936 presidential election, Charles Lindberg beats FDR and fascism rises in America. Roth shows how tenuous the grip on our republic can be when a self-serving politician is at the helm. We will meet Tuesday, November 28th at Lapham at 1:30pm.
---
The Book Club will not be meeting in December.