Book Club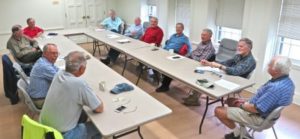 The Club meets monthly to discuss books of all genres. Writers have included Conan Doyle, Ashlee Vance, Agatha Christie, David Hoffman, Mickey Spillane, Dashiel Hammett, Patricia Cornwell  and John Grisham. Please join us in the always-stimulating conversation.
Chairman: Dan Eng (203-972-0649), Co-Chair: Jack Lapolla (203-966-1107)
The book selection for June: News of the World by Paulette Jiles. In 1870, Captain J.K.Kidd traveled through Texas reading newspapers to locals who were eager for news beyond the horizon. Along the way he accepts $50 to return a 10 year old orphaned girl to her dead
parents' relatives 400 miles away. The odyssey that follows is filled with suspense and treachery.
Book Club will be on vacation during July and August. The next club meeting will be on Tuesday, September 26th.