Amateur Chefs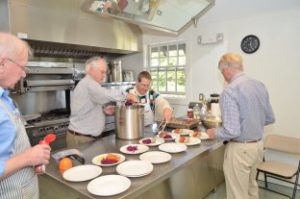 The Chefs meet and cook a gourmet meal each month at the Lapham Community Center. There is a new menu each month. Nick Zaccagnino creates the menu and recipes and the members  prepare the meal, clean up and contribute to the meal costs. Cooking skills are not necessary. The chefs also have a Summer Picnic and an Annual Dinner at Waveny Castle that includes the spouses and significant others. If you want to participate in the monthly meals at the Lapham Community Center, just sign-up at the Member Meeting on Friday.
Chairman: Nick Zaccagnino: (203-966-7217) Co-Chair: Bert Liebelt: (203-966-3696) Mike Law, Jack Messert, Joel Pelzner,  Ray Wheeler
The Annual Barbecue scheduled for August at Waveny has been put on hold due to a massive construction project taking place there. We are not cancelling the BBQ. We are searching for a venue which can accommodate our requirements and hope to be able to hold this activity as planned.